[Composer Harry] Partch made a big point of the corporeality of music. HIs instruments and tunings were intended to reach a listener physically…[Partch] wanted performers who were physical presences…and he got them in the likes of Erin Barnes.

Mark Swed, Music Critic, Los Angeles Times
The California Institute of the Arts is one of few accredited institutions in the world that feature music curricula beyond the scope of what is found in a traditional conservatory environment: CalArts boasts programs specializing in North Indian (Hindustani) Classical Music, Balinese and Javanese Gamelan, and Ewe Drumming from Northern Ghana, collectively dubbed World Music Studies. It's one thing to hear music from these regions and be moved, but another thing entirely to practice these art forms under the guidance of the established masters of the genre; CalArts offers the opportunity to experience both, in significantly meaningful ways.
As a percussion major at CalArts in the 1990s, Los Angeles-born and raised percussionist Erin Barnes was exposed to all this and more. Early on in her CalArts tenure, her interest in instrument building led her to discover alternative concepts of intonation, and an introduction to the work of Los Angeles-based composer and musicologist Kraig Grady. Kraig's own brand of microtonal string and percussion music was firmly rooted in theories set forth by (amongst others) composer Harry Partch, and it was through this collaboration that Erin Barnes was first introduced to Partch's music, and ultimately led to her to the Diamond Marimba, a fixture in virtually every performance of the PARTCH Ensemble.
"It was…1998, but I think the first piece I heard (of Harry Partch's) was And on the Seventh Day Petals Fell in Petaluma, or Daphne of the Dunes," says Erin, when recalling her first experience with Partch's music. "At that time, I was also deeply immersed in the world of dance, taking several ballet and modern classes a week…When I started playing Partch's music, I had no idea about his philosophy of corporeality and music. Castor and Pollux, a highly physical piece, was the first piece I learned as a part of this group, and naturally I found myself moving around the instrument a lot. When I later learned that Partch wanted his musicians to move, to have a strong physical connection to the music, it made complete, perfect sense, and I felt deeply that I had found my perfect artistic match."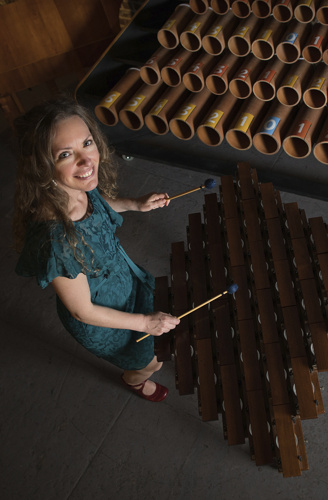 "When I later learned that Partch wanted his musicians to move, to have a strong physical connection to the music, it made complete, perfect sense, and I felt deeply that I had found my perfect artistic match."
Indeed, Erin's command of the corporeal Diamond Marimba has become one of the great highlights of all PARTCH Ensemble performances since joining the group in 2003; at that time, the ensemble was but three people, still performing under the name of founder John Schneider's group Just Strings. Together with Schneider and fellow percussionist (and CalArts mentor) David Johnson, the group performed for two more seasons, recruiting current members Nick Terry and T.J. Troy along the way, before officially establishing the ensemble now known as PARTCH in 2005.
Beyond the microtonal world of PARTCH, Erin is active in many different musical and educational capacites in the Los Angeles area, performing on the hammered dulcimer, focusing on traditional Celtic, Swedish, and American "Old Time" string music. Recent projects include a return to 1920s Xylophone and novelty Piano music (which also require a 1920s era xylophone, a sudden and preoccupying obsession!). She currently serves on the faculty of the Pasadena Waldorf High School, leading their Percussion Ensemble, and coaches the Violin and Cello sections of the Pasadena Youth Symphony Orchestra. Additionally, Erin is a trained yoga instructor, her work focused on elderly practitioners.
Yet, it is the spirit of invention championed by Harry Partch himself that engages Erin on a fundamental level, revealing deeper musical meaning through her experiences with PARTCH Ensemble. "The most meaningful memory" she shared, "…probably my deepest experience as a musician and human being…happened to be with PARTCH.
"We were at UC Santa Cruz, having played the previous night at Mills College to a large and enthusiastic audience. The Santa Cruz audience was smaller than Mills', and maybe this set the scene for a more relaxed performance. For a fleeting moment, while playing Pollux (possibly my favorite music to play, ever), I experienced a clear and deep feeling of complete oneness between the music, the sound of the instrument resonating in the hall, myself, and the audience. It was such a calm, powerful, and beautiful moment, and as it occurred, I realized I was conscious of it."
While music's power to transport and inspire imagination has been documented repeatedly throughout all eras of human existence, it is the transformative aspects of music that are more elusive; more likely than not, it's because the unique nature of these experiences leave little to compare to another's. Regardless of what inspirations brought Erin Barnes to the music of Harry Partch, it is our PARTCH Ensemble that benefits from her inspiration to stay there, to keep searching for the deeper parallels, the resonances that reach across decades and across people, to arrive at a place where the corporeal interacts with the spiritual…this is where Harry operated, and in that space, Erin Barnes continues to dazzle with the pure physicality that is music in motion.
"I truly appreciate this group as a mix of wonderful musicians…I feel like I learn so much from everyone in this ensemble. As for Harry, there really is no other music like his."