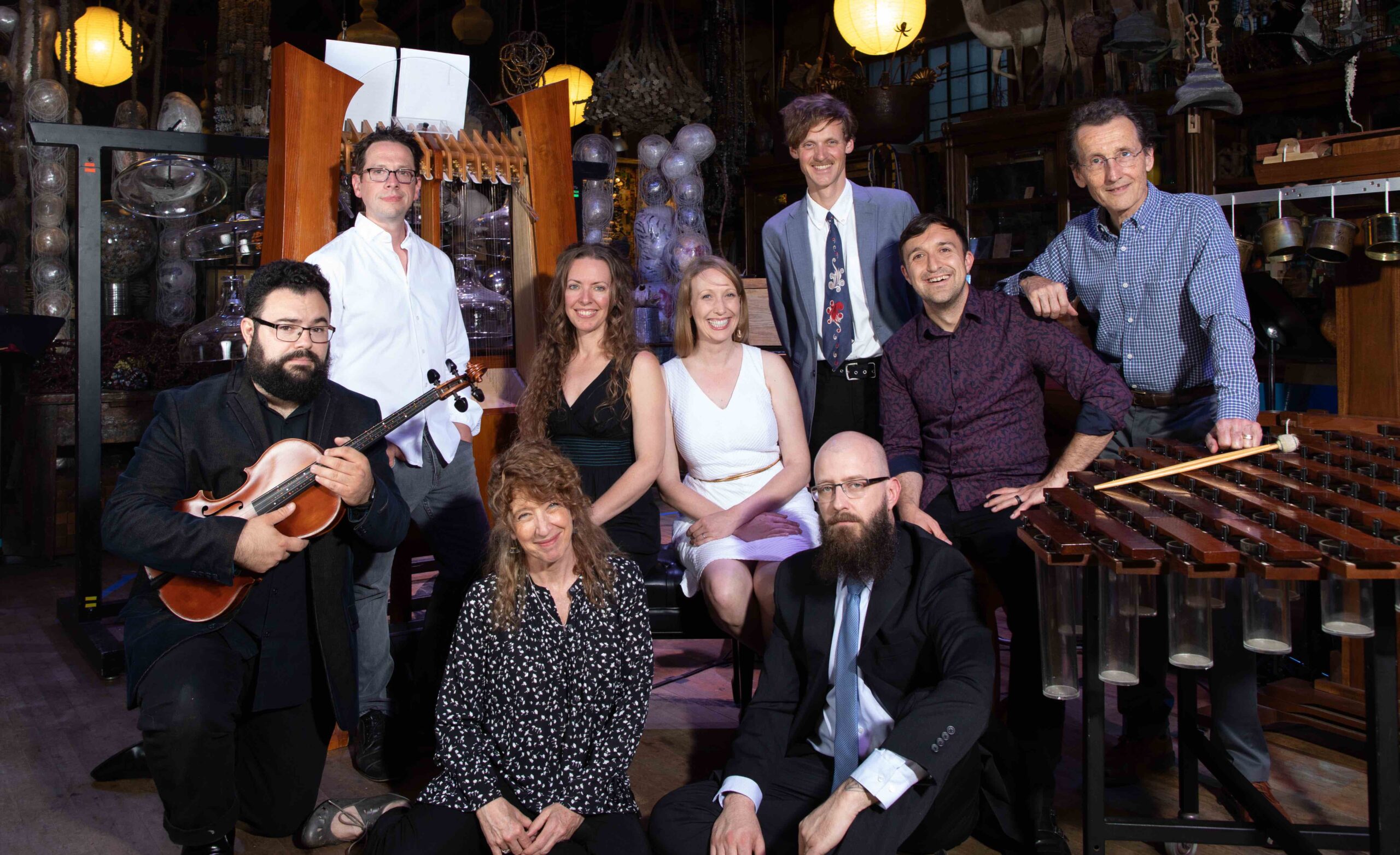 Mission
PARTCH Ensemble is a 501(c)(3) tax-exempt organization working to advance the music of American composer Harry Partch, embodied in the unique musical instruments of his invention. We bring life to Partch's music through performance, workshops and recordings, commissioning of new works by contemporary composers, and collaboration across disciplines including dance and video.
History
PARTCH is the GRAMMY® AWARD winning ensemble that specializes in the music & instruments of the iconoclastic American Maverick composer Harry Partch who, between 1930 and 1972, created one of the most amazing bodies of sensually alluring and emotionally powerful music of the 20th century. Partch wrote music drama, dance theater, multi-media extravaganzas, vocal music and chamber music—all to be performed on the extraordinary orchestra of instruments that he designed and built himself.
Since their formation as Just Strings in 1991 to perform the music of Lou Harrison and Harry Partch, the group has gone on to commission and premiere works by Larry Polansky, Mamoru Fujieda, John Luther Adams, Mari Takano, Sasha Bogdonawitsch and others. In 1995 they toured Japan under the auspices of the American Embassy's prestigious Interlink Festival, giving three weeks of concerts and lectures on new music. In 2005, with the completion of their twelfth Partch instrument, the group began performing under the name Partch. They have performed for Chamber Music in Historic Sites, the LA County Museum of Art, UCLA's Partch Centennial Celebration, Sacramento's Festival of New American Music, Minnesota Public Radio's American Mavericks, the Songlines series at Mills College, and the Gordon Getty Concerts at the Getty Center. In 2004, they made their Disney Hall debut premiering Harry Partch's Bitter Music, and have returned every year since. Partch is the resident ensemble of MicroFest, Los Angeles' yearly festival of microtonal music.
Their 2006 performance of "Castor & Pollux," choreographed by Liz Hoefner, was released on the DVD Enclosure 8: Harry Partch (Innova Records). In 2007, Partch performed in Albuquerque (36th Annual Composer's Symposium), Santa Cruz ( April in Santa Cruz Festival of New Music), Oakland (Mills College Partch Dances premiering Molissa Fenley's new choreography of "Castor & Pollux"), Disney Hall (their annual REDCAT multimedia survey of Partch's music), LA's outdoor festival Grand Performances, and were awarded grants from the National Endowment for the Arts and the Copland Fund for Music to record Partch's monumentalBitter Music for Bridge Records. Their 2008 season included the world re-premiere of Partch's hour long Plectra & Percussion Dances (1952), a week-long residency at Salt Lake City's RDT (Repertory Dance Theater), and performing opening week at the exciting new Broad Stage for critically acclaimed Jacaranda music series. In 2009, Partch gave the LA premiere of the composer's 11 Intrusions, and traveled to Mexico on a NEA sponsored exchange with the Guadalajara International Book Fair. 2010 included their performance at LACMA to celebrate the John Baldessari retropective Pure Beauty, while in 2011, they gave the SoCal premiere of Summer 1955, & released their premiere recording of Partch's Bitter Music, and were featured by the San Francisco Symphony's American Mavericks Festival in 2012. Recent performances include performances of Anne LeBaron's LSD: the Opera, concerts with the Prism Saxophone Quartet (Kimmel Center, Philadelphia & Roulette, Brooklyn) resulting in their collaborative CD Color Theory [XAS], as well as Vireo: The Spiritual Biography of a Witch's Accuser, the world's first episodic made-for-TV/online opera.
Partch's recording of Bitter Music was Grammy Award nominated for Best Classical Compendium of 2012, while the 57th Grammy Awards nominated their performance of Castor & Pollux for Best Chamber Music Performance, and awarded their Bridge Records release of Plectra & Percussion Dances with the Grammy Award for Best Classical Compendium of 2014.
PARTCH is supported in part by