"I most enjoy the communal elements of music. I like making connections in our community and exploring how music impacts other communities or cultures."
Music has the rare power to transcend vast swatches of reality in its effort to build connections, and most often, we want music to do exactly that…transport us to a place aside this one, remove the spaces between us and the other, such that we lose the distinction between ourselves and our surroundings, environment, and community. That's where we gain the freedom to rebuild those relationships in our own image: how many friendships have begun with a handshake and an inquiry…"do you play the drums?"
Matt Cook spends his time cultivating connections from the ground up, a rare combination of master percussionist, educator, and leader in the non-profit arts community. Originally from Duluth, GA, Matt pursued his muse at the Oberlin Conservatory of Music, his focus on orchestral and contemporary percussion, especially in a chamber music context.
Matt came to PARTCH Ensemble in 2011 via the arm team, otherwise known as the California Institute of the Arts, where he completed his graduate studies with then Head of Percussion Studies (and a PARTCH Ensemble member emeritus) David Johnson, while working closely with world percussion maestro Randy Gloss and resident swing master Joe LaBarbera. As Matt's musical horizons grew, it was a natural fit for him to join the ranks of the growing Los Angeles phenomenon that was PARTCH Ensemble.
Harry Partch didn't make things easy for the performers in his ensembles. There were often new parts to learn on familiar compositions that had been updated to include one (or more) of his newly invented instruments; each of these instruments was informed by the composer's own notion of the idiosyncratic nature of the instrument in question, and the notation that came with it would reflect this. Whenever a new instrument arrived, it meant new compositions, new parts, and new notation, all unique to that new instrument. In turn, this meant "somebody" had to learn to play these new parts…in PARTCH Ensemble, we more often than not turn to Matt.
His vast multi-percussion experience serves a much needed role in our group: his ability to travel from instrument to instrument within the ensemble, be it stringed or percussive in nature, has worked to allow the ensemble to vastly expand its playable repertoire. Matt has performed extensively on the Cloud Chamber Bowls, Bass Marimba, Kithara, Harmonic Cannons, Surrogate Kithara, Spoils of War, Diamond Marimba, and Marimba Eroica, as well as performing traditional orchestral percussion instruments on several of the ensemble's collaborative ventures with composers writing for PARTCH Ensemble with extended instrumentation (see Anne LeBaron's LSD – The Opera).
Challenging as it may seem to the outsider, it is part and parcel with the musical experiences Matt has always chosen to pursue…in fact, the challenge alone was enough to draw Matt's interest to the ensemble: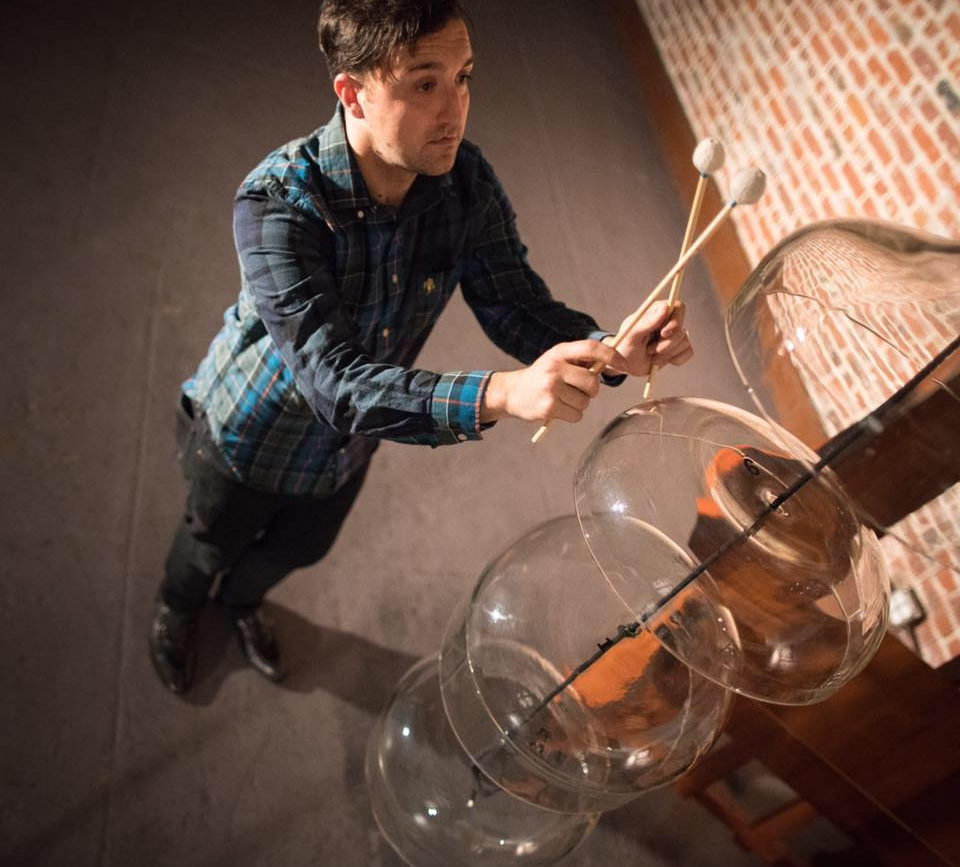 "I was drawn to the unique playing techniques and challenges that Harry's instruments presented. As a percussionist, I'm always searching for new sounds and new challenges to explore."
Matt is a highly active member of Los Angeles' vibrant professional music community: performing regularly on film, television, and other recorded media, he is also a founding member of the illustrious Los Angeles Percussion Quartet (along with another PARTCHian, Nick Terry), as well as a member of the dynamic contemporary music ensemble WildUp. Currently part of the teaching faculty at Fullerton and Ventura Colleges, Matt has recently ventured further in the area of professional Performing Arts administration, working as a Development Director to secure opportunities for various ensembles to continue their mission statement and present their works for public consumption.
"I feel that Partch's music is most relevant today as a rewarding live concert experience. The albums give listeners a glimpse into his world, but to really experience the music it requires a fully immersive, live concert experience…[It is] the most unique performing experience that I've ever been a part of. I think Harry would be proud."
Each member in PARTCH Ensemble would echo this sentiment in our own way, but Matt's words are especially prescient, cutting to the core of what our group is about…come see it Live…as this is the most effective, direct, and transcendent communication of thought. Building connections through performance or recordings, through education or development, or through the sheer joy of sharing moments onstage with friends and colleagues…each a branch of the same tree that roots us in the same reality. And while true that music can transcend the spaces between people, it also acts as the very bridge that connects them. We are honored to work alongside Matt Cook for the vast plethora of talent, experience, knowledge, and follow-through of his artistic and professional vision.
Learn more about Matt Cook at his website: www.matthewhcook.com