"[It] occurs regularly…the instant before we start playing; that breathless silence before the first note, when I crouch down to peer through the kithara and connect with each 'Partchian'…the excitement, the smiles, the trust in each other…that is my favorite moment."
Musicians are often asked this very simple question: why do you do what you do? Answers vary from person to person, era after era…variations as numerous as grains of sand. And each musician needs to discover their own personal why, and then cultivate that reason into a drive…that's the point where it is possible to become an artist. It's a term that is not to be used lightly; those of us in the business of professional music know when we encounter a visionary, a true artist…while it may not necessarily take one to know one, it does take one to understand that the label does not confer a level, or an aptitude. The label is only that.
True artistry is transcendent: it goes beyond talent and embraces the full spectrum of a person and their internal motivations and drives. It's a lifelong journey, and the joy comes by being a willing and conscious participant in said journey. The journey towards true artistry is similar to that of self-realization: only you can walk the walk.
Composer Harry Partch walked his walk. Many musicians have taken up the walk in the years since Harry's journey ended in 1974, and have done so with equal parts zeal, love, and madness, with varying results, and of course, a multitude of destinations.
This month's Member Spotlight features harpist and resident Kitharian Alison Bjorkedal, a stalwart of the Los Angeles classical, new music, and contemporary music community. As with many members of PARTCH, her personal journey into music began at an early age, where the deep end of the pools of music she was shown suffered her no consternation.
"I began playing piano at age 3 and cannot remember a time when music was not a daily, integral part of my life."
Originally from Kennewick, WA, Alison first encountered the harp in high school, and was able to gain access to an instrument owned by the local school district; from that moment on, Alison's path was committed to the harp. The path led south from Kennewick, first to the University of Oregon for a Bachelor of Music degree, leading to both Master's and Doctoral degrees from the University of Southern California. Seeing the musical landscape of Los Angeles as a fruitful bed of opportunity, Alison permanently relocated to southern California, and began quickly making inroads to the broader classical music community.
In 2011, the path veered suddenly towards Harry Partch: "Harry Partch was mentioned, almost as a side note, in an undergraduate music history course. But, sadly, I had not explored his music until…"
Enter John Schneider.
"John speaks with such love about the ensemble and its mission of keeping this music alive…I was delighted by the uniqueness and the incredible wit of the music."
I will reiterate: it may not take one to know one, but it does take an artist to understand the commitment, the drive necessary to embody the journey of true artistic development, especially as it manifests in another. John recognized it in Alison, and the invitation to join the group was forthcoming, if not altogether expedient.
"…I could not resist his invitation to learn more…"
Alison is PARTCH's resident master of the Kithara, the 72-stringed behemoth of a harp, setting 12 distinct (thought intrinsically related) hexachords formulating Harry Partch's unique harmonic foundation. Additionally, Alison has performed extensively on the Harmonic Canons, Surrogate Kithara, Cloud Chamber Bowls, and recently added her voice to the ensemble's rendition of Harry's beloved Barstow, performing the part of "Marie Blackwell."
She serves on the faculty of the California Institute of the Arts, guiding students immersed in their own personal journeys with the harp. Simultaneously, Alison teaches a class in Music Appreciation at Pasadena City College.
"As a teacher, I observe my students' bravery and commitment to finding their artistic voices and [Harry] Partch's music mirrors that exploration and expression in a very unique and inspiring way."
Her career as a first-call harpist has featured performances with Sia, Madonna, Nate Ruess, and Kid Cudi; on-screen appearances with Andrea Bocelli and the Pentatonix; appearances with the San Diego Symphony, Pasadena Symphony/Pops Orchestra, Long Beach Opera, and the Long Beach Symphony.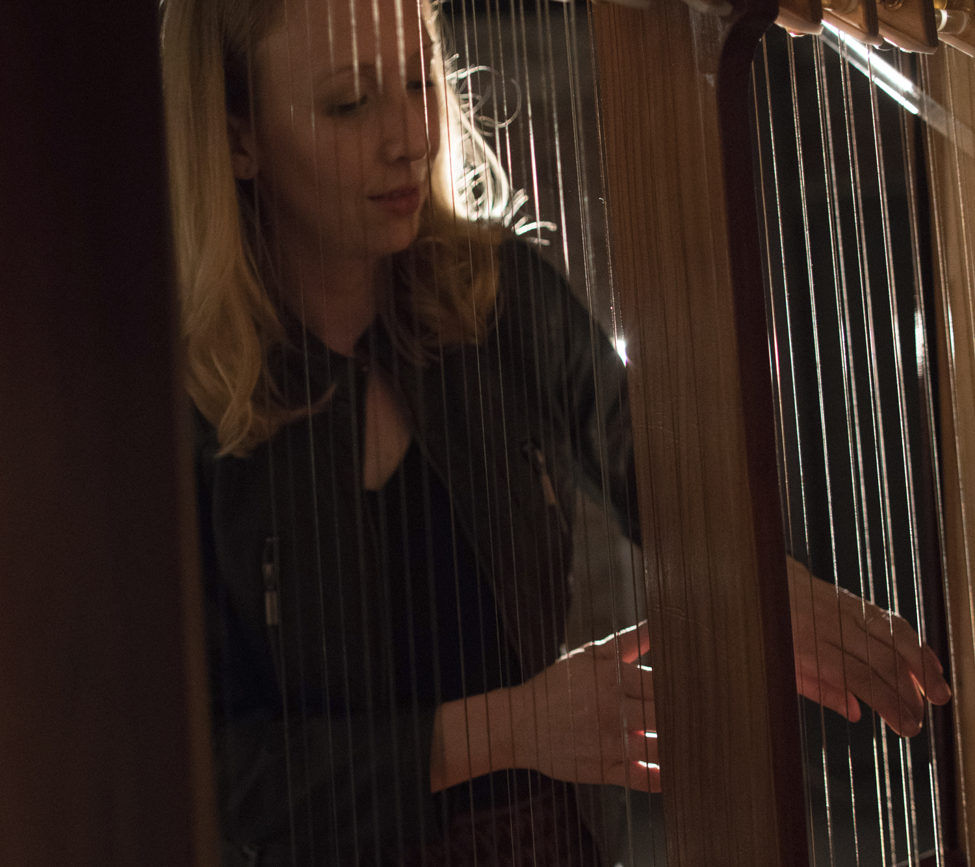 "Discovering Partch's music has compelled me to think about music differently. It was very humbling to start fresh learning a new type of music notation and an instrument unlike any other…I hope our journey as an ensemble brings that experience to more people as we work to expand our performance and recording opportunities."
The journey towards true transcendent artistry begins with an unspoken desire; there are years then spent seeking, learning, expanding, before self-actualization…before earning the title "artist." PARTCH Ensemble is fortunate that each member has not only discovered this journey on their own, but that the path led them to the group. From here on out, it is a shared journey, and for one who has considered the path Less Traveled…knowing that it is shared with friends and mates who share the same values has made all the difference. PARTCH is grateful to be sharing this part of our collective journey with Alison Bjorkedal traveling with us.
Learn more about Alison at alisonbjorkedal.com